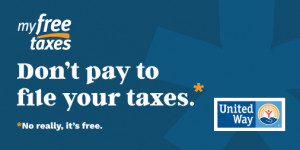 Did you know you can file a free federal and up to three state returns if your income in 2017 was $66,000 or less?
Have a QUESTION while you are preparing your return? IRS certified tax coaches can help!
Contact us:
• By Phone: 855-698-9435
• By E-Mail: info@myfreetaxes.com
• IRS certified volunteers will be answering questions from Monday-Friday 9 AM – 9 PM and Saturday 11 AM – 8 AM – CST
• If you qualify for the new Affordable Care Act (ACA) they will also be able to help
• *Questions are answered in the order that they are received
• **Responses are provided within 24 hours (except on weekends; more complex questions may require additional research.
To e-file your 2017 tax return or other electronic forms, you must verify your identity with:
• An Electronic filing PIN on irs.gov Click for help.
Optional:
• Click Here for Interactive Tax Assistant (IRS.gov)
• Click Here for Where's My Refund (IRS.gov)
• Link to Federal Application for Federal Student Aid (FAFSA)
Click here to proceed to MyFreeTaxes Website