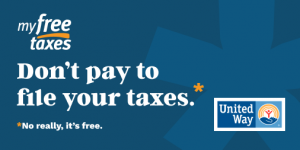 Did you know you can file a free federal and up to three state returns if your income in 2017 was $66,000 or less?
The MyFreeTaxes Partnership provides free state and federal tax preparation and filing assistance for qualified individuals. It's easy, safe, secure and 100% free.
You will be able to:
Use free tax preparation and e-filing of your federal and state return.
Get help: if you have questions, you can call a certified tax coach using the toll free number or email address provided.
If unable to contact the certified tax coach immediately, you can leave a message and your call will be returned within 24 hours.
Have a QUESTION while you are preparing your return? IRS certified tax coaches can help.
IRS certified volunteers will be answering questions from Monday-Friday 9 AM – 9 PM and Saturday 11 AM – 8 AM – CST.
If you qualify for the new Affordable Care Act (ACA) they will also be able to help.
Questions are answered in the order that they are received.
Responses are provided within 24 hours (except on weekends; more complex questions may require additional research).
To e-file your 2017 tax return or other electronic forms, you must verify your identity with: An Electronic Filing PIN on irs.gov.
If you are asked for payment information to prepare your federal or state tax return and your income is $66,000 or less, STOP and call 855-698-9435.
Helpful Links