Beautification 2017 – Annual Trash Poster Contest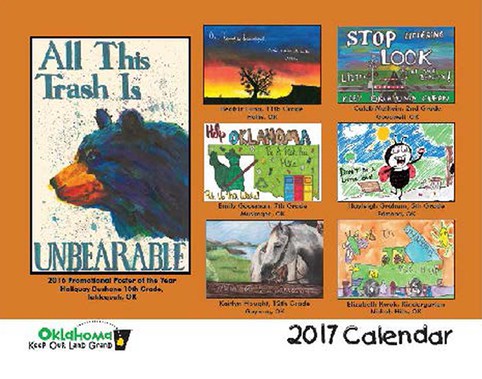 Deadline for Trash Poster Contest Entries is the Last Business Day of January 2017
Approximately 14,000 students enter the Statewide Trash Poster Contest, annually, making this poster judging very competitive and certainly very interesting! In addition to other prizes, 12 chosen state winning posters will be featured in 35,000 printed calendars. 35,000 copies each of "one" additional state winning poster is also selected and will be reproduced in a large dynamic color poster format for display as the "Promotional Poster of the Year". These items are distributed to Oklahoma federal, state, city, and county agencies, schools, libraries, municipalities and many other businesses, organizations, groups, and individuals, statewide, nationally, and internationally.
---
Entry Forms:
Entry Forms are available at the Anadarko Community library.
Entry blanks for the Annual Trash Poster Contest, printed copies of the display poster from the current year, and several calendars are mailed to each Oklahoma school principal and superintendent in November. Entry forms can also be obtained by contacting the ODOT Beautification Office (405) 521-4037, or by printing the Trash Poster Contest Entry Form(s) from your computer, here. The contest begins in December each year. Please do not submit poster entries prior to the month of December!
Entry Form information must be filled out completely, legibly, and in detail, and placed in the upper right corner on the BACK of the poster. Entries must be taken or sent to your local County Department of Environmental Quality Office (DEQ) by the last working business day of January each year. Late entries or entries sent to the wrong office will NOT be judged.
---
General Rules:
Use 12″ x 18″ OR 11″ x 17″ heavy paper or poster board ONLY.
Must be student's

original

slogan and

original

artwork. No signatures on posters!
No syndicated, copyrighted or clipart images on poster entries!
No computer aided or copy machine poster entries.
No cusswords or sexual content or drawings of a suggestable nature allowed!
Attach COMPLETED ENTRY FORM on back

"upper right corner"

of poster.
Reproducible qualities factors into the judging, so use good lettering, high contrast and bright colors!
Entries must be received by your local County Department of Environmental Quality Office by the last business day in January.
Please follow poster contest rules or face disqualification of poster entry.
---
Themes:
Poster must be an ORIGINAL concept.
Posters should be artistic, POSITIVE in approach and wording, and focus on solutions to Oklahoma's litter problems.
---
Judging:
Poster entries must be sent or delivered to your local County Department of Environmental Quality Office. The DEQ Offices judge each county's posters and send the 1st, 2nd, and 3rd place county winners in the four grade categories to the main DEQ Office in Oklahoma City by the end of February. The ODOT Beautification Office then coordinates the state judging in March. The posters are judged on:
Quality of design
Creativity and originality of the artwork
Creativity and originality of the slogan
Appropriate theme using "positive" approach and wording
Reproducibility
Age appropriateness for the grade category entered
---
Contest Divisions:
The contest is divided into four divisions by grade: K-2, 3-5, 6-8, and 9-12. All Oklahoma K-12 students are eligible and encouraged to enter.
---
Prizes:
Local Prizes – 1st, 2nd and 3rd place county winners receive a certificate. Some local sponsors also present other prizes, but those vary by county.
State Prizes – State judging is completed in early March. In April, each of the 13 state winners will receive a cash award for first, second and third places from each grade category, and for the "Promotional Poster of the Year".
State winners also will receive a T-shirt with their design on it and a mounted poster board copy and laminated place-mat of their poster. Teachers of the 13 state winners receive vouchers for a two-night stay at an Oklahoma State Park and vouchers to purchase classroom school art supplies.
---
Awards Event:
State winners and teachers are honored at an April Awards Event at the ODOT Building in Oklahoma City. The winning students are also introduced to the Oklahoma State House of Representatives at the State Capitol that same day. All state winners and their teachers receive proper notification prior to the awards luncheon.